Portugal's wine industry seems to be evolving steadily. Modern winemaking techniques are helping committed wine growers fulfil the potential of the diverse terroirs and grape varieties that Portugal enjoys, and each year new wines are being released that are pushing back the quality boundaries.
A decade ago, you're have had a task finding more than half a dozen fine table wines from Portugal that could really compete on the international stage. But at a recent trade tasting of Portuguese wines I tasted 37 which I rated as very good/excellent ?or which, in terms of points out of 100, broke the magic 90 barrier.
Some caveats. First, this was a selected sample: I spent the majority of my time tasting what I thought were likely to be the best wines. Be in no doubt, the majority of Portugal抯 wine production is pretty ordinary (as with most countries), and there is still too much poor winemaking and viticulture. There are also some notable ommissions from this list ?I have had other Douro, Dão , Bairrada and Alentejo wines recently which have broken the 90 barrier, and which no doubt would have done so if I had tasted them here.
Having said this, I'm confident that the wines listed below are all fairly serious and would do very well against a peer group of fine wines rated 90 or above from any other wine growing area.
得分/100分 葡萄酒及品评记录wine and tasting note
White wines 白酒
90
Quinta dos Roques Encruzado 2001 Dão
Lovely limey, herby complexity on the nose with some savoury nutty depth. The complex intense nutty palate is very expressive. Lovely. Very good/excellent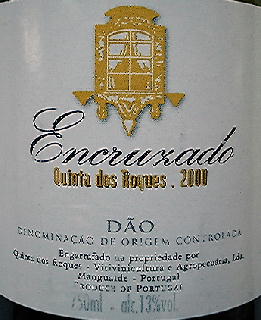 90
Niepoort Redoma Branco 2001 Douro
Lovely herby, nutty intensity to the nose with some bright lemony fruit, and a hint of vanilla. The palate is broad, nutty and slightly toasty with a spicy edge. Great depth of fruit. A touch oaky at the moment, but lovely. Very good/excellent 90 (aside: the Reserva Branco is even better, and would no doubt rate in the mid 90s?
90
Quinta do Ameal Escolha 2001 Minho
Lovely fresh nose with subtle herby complexity. Lovely concentration on the palate. Quite structured and mineralic, with the oak hardly obvious. High acidity. Very good/excellent
90
Quinta do Ameal Loureiro 2002 Minho
Expressive, fresh herby nose with some floral notes. Delicate yet concentrated palate is very expressive with crisp pure fruit and high acidity. Very good/excellent
Red wines 红酒
95
Niepoort Batuta 2000 Douro
From ancient vines at Quinta do Carril. Modern, intense spicy nose is quite tight with some roast coffee notes. The palate is hugely concentrated yet still quite elegant with firm spicy tannins and well structured berry and black fruits. Needs time to fulfil its huge potential. Excellent (UK agent Raymond Reynolds)
95
Pintas 2001 Douro
Maiden vintage for this wine, made by Jorges Borges and Sandra Tavares (husband and wife team, winemakers with Dirk Niepoort and Christiano Van Zeller, respectively). Very deep, almost opaque colour. The nose is brooding with intense chocolatey-rich black fruits and some herbal complexity. The lovely concentrated palate displays lush fruit, ripe tannins and some complexity is already evident. A huge wine with lots of elegance and ripeness. Excellent (not yet available in the UK)
95
Quinta do Vale D. Maria 2001 Douro
Very striking open nose, displaying ripe liquorice-tinged raspberry/blackcurrant fruit. The palate is midweight, ripe and elegant with lovely concentration and balance and nicely integrated wood. This is a delightfully elegant wine ?very expressive and a real step up from the 2000, I was surprised by just how good this was. (Blended cask sample.) Excellent (UK agent Corney & Barrow)
93
Pera Manca Tinto 1995 Alentejo
This is one of Portugal's most famous and sought-after wines. Astonishing nose: it's very herby, with complex cheesy, southern spice notes. The palate is warm and complex, displaying lots of savoury, spicy elements. Good concentration. Very traditional and unusual, but quite brilliant. Very good/excellent (UK agent Raymond Reynolds)
93
Niepoort Redoma Tinto 2000 Douro
70 year old vines and miserly yields of 15 hl/ha result in a classy red wine that will reward patience. Classy nose of chocolatey, herby, spicy berry fruit is clean, modern and correct, and less wild than previous vintages. Well integrated new oak. Good concentration on the rich spicy palate with firm tannins and good acidity. Very good/excellent (UK agent Raymond Reynolds)
93
Chryseia 2000 Douro
Using grapes from four quintas in the Cima Corgo, this is the Symington's flagship table wine. Intense, rich, chocolatey, liquoricey edge to the ripe berry and black fruit nose, with some sweet edged fruit. The palate shows a huge concentration of chocolatey, herb-tinged fruit. It's lush, rich and bold, with some assertive yet soft tannins under the fruit. Very nice. Very good/excellent 93 (UK agent John E. Fells)
93
Quinta do Vale Meão 2000 Douro
This modern-styled wine is highly seductive. It displays an intense, lush, tarry nose of spicy black fruits. The palate is lush, concentrated and liquoricey with a pronounced herbal edge. Boldly flavoured with lots of character, its easy to see why this has rapidly become such a sought-after wine ?this is only the second vintage. Very good/excellent (UK agent Raymond Reynolds)
92
Cartuxa Tinto 1998 Alentejo
Faded colour. Lovely expressive, warm, herby/spicy nose with leathery complexity. The palate is savoury and chewy with earthy, spicy, herby richness. Very traditional but lovely and expressive. Very good/excellent
92
Quinta da Portela da Vilariça Touriga Nacional 2000 Douro
Ripe herby berry and black fruit nose with a savoury, spicy edge. Interesting: brooding and intense. Firmly structured spicy palate with lots of rich herby fruit and good acidity. Rich but not overblown, and showing great concentration. Very good/excellent
91
Chocapalha 2001 Estremadura
A blend of Touriga Nacional and Tinta Roriz that spends 15 months in oak, 70% of which is new. Very deep coloured. Appealing nose is spicy and herby with some tarry richness. The palate is quite firm, rich and spicy, still showing quite a bit of spicy oak with good tannic structure. Lovely expressive wine with lots of character. Very good/excellent
91
Niepoort Quinta do Passadouro 1999 Douro
Spicy, dusty nose with ripe berry fruit. Good concentration on the chewy, chunky palate with firm tannins and good acidity. Its structure reminds me a little bit of a very good Chianti Classico.Great concentration ? a lovely wine. Very good/excellent
91
Quinta das Maias Black Label a 2000 Dão
First vintage of this new superpremium wine, which is made from old vines ?predominantly Jaen. It reminds me of Grand Cru Burgundy. Lovely elegant spicy savoury palate with fine grained tannins good acidity and nice concentration. Not a powerful wine but an expressive one, with lots of potential. Very good/excellent
91
Quinta dos Roques Touriga Nacional 2000 Dão
Lovely juicy blackcurrant fruit nose with some herby complexity. The palate is rich and juicy with high acidity and herby, tarry richness. Youthful but lots of potential. Very good/excellent
91
Dão Sul Quinta Sá de Baixo Grande Eschola 2000, Douro
Very deep purple/black colour. Serious savoury, spicy nose showing spicy-edged ripe fruit. The palate is concentrated and rich with assertive, firm spicy structure and well judged oak. Very bold, intense and concentrated. Very good/excellent
91
Dão Sul Quinta da Cabriz Dão Superior 2000, Dão
There's lovely herby complexity to the nose which is very expressive with a slightly meaty edge. The palate shows a lovely herby elegance. Nicely weighted structure, good acidity. Savoury and well balanced. Very good/excellent 91
91
Esporão Garrafeira 2000 Alentejo
Very forward, intense nose displaying ripe, spicy, liquoricey-edged fruit. The palate shows a great concentration of of spicy, tarry berry fruit. Bold and rich, this is unashamedly new world in style. Very good/excellent
91
Quinta de Roriz Reserva 2000 Douro
Attractive intense, liquoricey herby fruit on the nose with a spicy edge. The palate is rich and full, with rich, chocolatey, herby berry and black fruits. Some spicy oak evident. Great concentration ?quite a structured, serious wine. Very good/excellent
91
Chryseia 2001 Douro
Deep coloured. Expressive herby open nose showing ripe berry fruit. The palate is open and rich with herby, liquoricey fruit. Despite the concentration this is an open, expressive wine that is drinking well now, although it has the structure to age. Plenty of character. Very good/excellent
91
Duas Quintas Reserva 2000 Douro
Full, intense, herby nose with a spicy, slightly tarry edge. Very appealing. Good concentration on the palate. Intense, herby edged tarry berry fruit. Nicely savoury with some good structure. Very good/excellent
91
Duas Quintas Reserva Especial 2000 Douro
Chewy, savoury, intense and brooding with firm tannic structure and a nice herbal complexity. Very rich and bold but with some elegance. Very good/excellent
90
Duas Quintas Reserva 1997 Douro
Appealing, open, spicy herby nose has a nice minerally edge. Expressive. Structured, savoury palate with a leafy, herby edge. Very appealing. Very good/excellent
90
Esporão Reserva 2000 Alentejo
Rich liquorice-tinged herby fruit on the nose. Rich, boldly fruited palate with a spicy edge and lots of character. A rich, bold wine with upfront appeal. Very good/excellent
90
José Maria da Fonseca Periquita Classico 1995 Terras do Sado
The complexy herby, earthy, leathery nose is quite evolved. The traditional-styled palate is appealing, rounded and quite complex. Not a fruit driven wine. Very good/excellent
90
José Maria da Fonseca José de Sousa Mayor 1998 Alentejo
40% is femented and matured in clay pots, a traditional Alentejo technique. Intense, spicy, caramelly nose is quite rich and full. The palate is chewy and rich with an appealing herby edge to the fruit. Nicely made in a traditional style. Very good/excellent
90
Conde d'Ervideira Reserva 2001 Alentejo
Very rich, open nose ?almost lush but with a fresh herbal edge to the berry fruit. The chewy, herbal edged palate is very expressive and individual. Lovely stuff. Very good/excellent
90
Quinta Fonte do Ouro Touriga Nacional 2000 Dão
Spicy, tarry edge to rich berry and black fruit nose. The palate displays vivid, juicy berry fruit with tarry, smoky complexity and good acidity. Expressive. Classic Dão in a modern mould. Very good/excellent
90
Casa Cadaval Trincadeira Preta 2000 Ribatejo
This wine displays delicious savoury, chewy berry fruit with a spicy streak and good balancing acidity. Good structure and some complexity. Very good/excellent
90
Sogrape Herdade do Peso Aragonês 2000 Alentejo
Intense, lush forward nose of spicy, herby chocolatey fruit. The palate is concentrated and lush with ripe, tarry, herby fruit that has hints of sweet spices and vanilla. Very intense and moreish. Very good/excellent
90
Sogrape Quinta dos Carvalhais Touriga Nacional 2000 Dão
Minty edge to the refined herbal fruit on the nose. Elegant savoury fruit on the palate. Not big but well structured and showing great balance. Ageworthy. Very good/excellent
90
Dão Sul Quinta das Tecedeiras 2001 Douro
Deep coloured. Quite rich, liquoricey, herby edge to the nose, with a touch of chocolatey richness. The palate is chewy, rich and concentrated with some firm tannins. Very good/excellent
90
Quinta do Vallado 2001 Douro
No Reserva was made in 2001, so this is the top wine this year. Rich, intense nose with a spicy, chocolatey edge. Lovely balance on the palate, which is firm, chunky and shows herb-tinged berry and black fruits with some spicy oak. Good concentration and quite elegant. Very good/excellent
90
Quinta Da Portela Da Vilariça 2000 Douro
From 15 year old vineyards in the upper Douro. Savoury, spicy nose with a roast coffee edge. Lovely structured, intense palate with a chocolatey edge to the firm berry fruit. Quite a structured wine with lots of character. Very good/excellent
90
Quinta do Côtto Grande Eschola 2000, Douro
Côtto's Grande Eschola is one of the famous table wines of the Douro, and made its debut in the 1970s. Only made in the best years, this is the first Grande Eschola since 1995. The intense, rich, tarry nose shows some spicy, roast coffee notes. The palate is full and concentrated with good acidity and plenty of spicy oak. This is a bold, structured wine for long-term cellaring. Very good/excellent
Wines tasted April 2003